Ok, so have you ever made something and been so happy with how it turned out that you could hardly believe you made it? That is how I felt this weekend! I saw a great barrette board over at
"To Enjoy Simply"
(Thanks Erin!) and I had to make one.
Luckily I had an old picture frame I could use...
and I loved the corner detail
Because my girls are still using hand- me- down bedding I found fabric with the colors that I will eventually decorate their room with. I put batting under the fabric, added white ribbon and these great crystal buttons I found...
My twist on the project was adding these glass knobs to hang baby C's headbands and I spraypainted the frame white...
and voila!...
here it is with their pretties on it...
I love it!
I'm linked up here: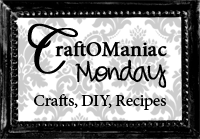 <