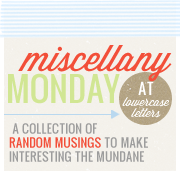 First, let me apologize that I don't have any pictures to share. I'm not able to get into my house until tomorrow. Let the randomness begin...
1. After I posted my lovely
bathroom pictures
last week we had a house flood! Crazy, I know! I will have lots of pictures soon so you can feel my pain. We spent 4 nights in a hotel and now are at my parent's while they are out of town. Thank God for insurance, but living out of suitcases is getting old. We farmed out the two little ones to the grandparents while we stayed at the hotel which made things much easier. Tomorrow the clean up should be done and then we start the process of hiring people to put things back together.
2.I'm so thankful to the Lord for being present in this situation. He showed me how blessed
we are to have family close and willing to help us in every way. I can't even tell you how many friends offered us a place to stay, a hot meal and babysitting. There was a time when our current circumstances would have stolen my joy and I would have seen only the inconvenience but God is good. He has grown my husband and I and opened our eyes to His provision.
Some other things I've noticed...
3. My oldest daughter has started this weird habit of standing silently behind me when she
needs something. This results in me turning around to find her staring at me and me nearly having a heart attack. Very creepy! Good thing she is so cute.
4. I am too frugal to have room service even when the insurance is covering it. The cost is ridiculous people, really! There should be a law against it.
5. I may have a small obsession with "words with friends". Have you played this game? I may have to set myself a time limit per day on this one!
Happy Monday everyone!