This precious girl is on my heart today.
There are so many times when I feel I am not giving her everything she needs. All children have different needs right? Different ways they need to be loved to nourish who they are. J is full of energy, ideas and things she wants to accomplish. Every day is something different. Sometimes it's tiring, or I'm letting my "to do" list get in the way of really listening to her.
There are days I think "why does she need so much attention from me?"
Of course she needs my attention. I'm her Mommy, the woman she looks up to and wants to impress. She wants to know she is pretty enough, smart enough...good enough. I can let myself be tired now, but how does that serve her?
It doesn't.
So I'll be praying for my heart and mind to be continually open to her needs. Praying for God to remind me I will never get these moments back. This is my time. These are the years to show her she is more than good enough.
This is my time to show her what a gift she is to me and that I'm her biggest fan.
It may just require more coffee!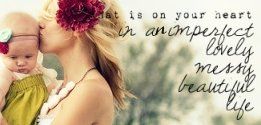 Friday is the last day to enter this
giveaway
.